Rack and Roll – Annie and The Blow-Up Dolls
Creating high quality fetish comics can be an odd business sometimes. For example, most of our artists (as far as I know) aren't even remotely interested in expanding breasts, buttocks, or bellies. They're just open-minded professionals who are very good at adapting their particular art styles to suit the needs of their audience!
But this site has always prided itself on constantly striding to further improve with every new title, and what better way to do so than to find artists who brings both the quality our fans expect AND a shared affinity for the fetish they love?
It is with that in mind that we are happy to present Expansion Fan's first collaboration with one of DeviantART's most popular expansion artists: TLink's Annie and the Blow-Up Dolls!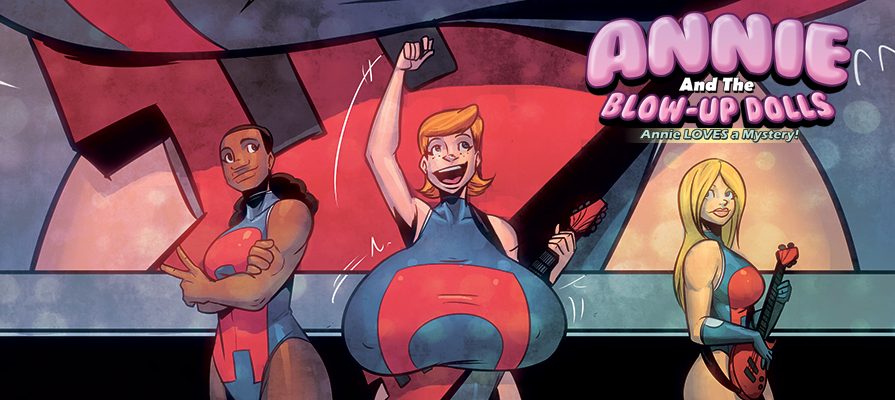 Synopsis: Annie and the Blow-Up Dolls is one of the top-selling pop acts in the world, but the band's tendency to run off solving mysteries, even cancelling concerts to do so, drives their manager crazy. Then a fanboy doses Annie with a chemical that makes her breasts grow when she's turned on — but she's kinky for mysteries, not him. So, when a mystery beckons, Annie keeps getting bigger and bigger.
Release Date: September 7th, 2015
Written by: Mac Rome and Valeyard Vince
Lineart by: TLink
Colors by: Ross A. Campbell
Tags: Breast expansion, pleasure, clothes ripping, boob crush, science, sex, ZENITH breasts
Series Link: Annie and The Blow-Up Dolls
Download this and all of our other breast expansion comics with a single 1-month membership to Expansion Fan Comics!
And don't forget: Expansion Fan Comics is bitcoin-friendly!