Saturday, May 28th, 2016
As you may or may not have noticed, last night saw the release of the Power Patrol + Cleavage Crusader crossover special on Giantess Fan, including the entirety of the awesome adventure that first began within the pages of The Cleavage Crusader.
For all you expansion fans who have been patiently waiting to see that story continued to completion, fear not: The Cleavage Crusader #3 has now been updated to contain all 35 action-packed pages of growing giantesses, expanding breasts, and more as our fetish-friendly super heroes meet for a clash of epic proportions!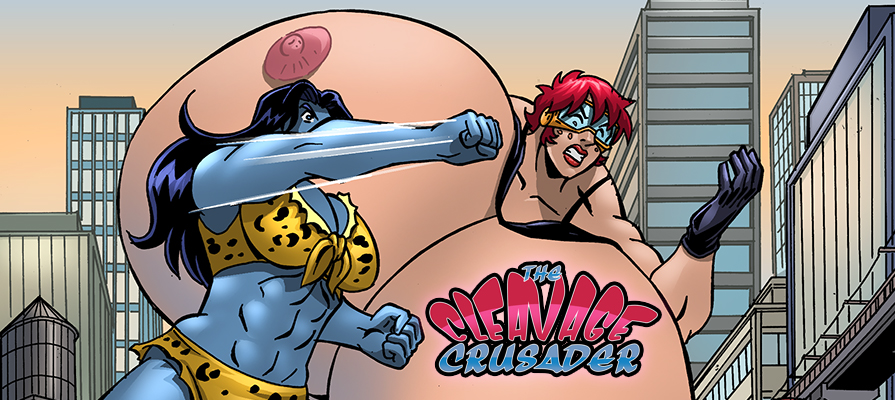 Synopsis: Fresh from her battle with the Deflater, Sam joins forces with Megapolis' greatest heroes to tackle yet another strange new enemy. But with her super-powers on the fritz, will she prove to be their greatest ally or liability?
Release date: December 7th, 2013 (updated May 28th, 2016)
Written by: Valeyard Vince and RogueScholar
Artwork by: Octo
Tags: Crossover, breast expansion, ass expansion, pleasure, can't move, mind control, lactation, height increase, transformation, clothes ripping, instant, tomboy, nerdy girl, science, female muscle, shrinking, shrunken woman, ZENITH breasts
Giantess Series Link: Power Patrol
Expansion Series Link: The Cleavage Crusader
Download this comic and all of our other breast expansion comics in our catalog with a single 1-month membership to Expansion Fan Comics!
AND DON'T FORGET: Expansion Fan now accepts Bitcoin and sports a brand new "favourites" feature!