Breast Expansion comic – All Sizes Fit One
What's not to like about magic fairies, MILFs and big titties? I mean come on. Our latest comic All Sizes Fit One features a woman who gets her innermost wishes fulfilled when the Wardrobe Fairy grants her the ability to magically reshape to fit into any article of clothing. The possibilities are endless!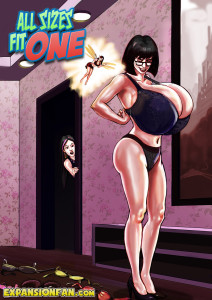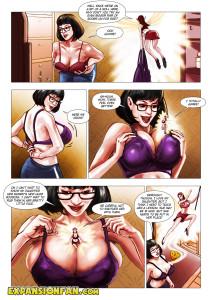 Synopsis: The Wardrobe Fairy grants flat chested Karen the wish that every woman wants; the ability to fit into any article of clothing she wants. And now Karen's body magically reshapes itself to fit into any item of clothing she wears, which proves to be a source of endless fun and pleasure. As breast connoisseurs can already guess, the first thing on Karen's agenda is to try on some new extra-large sized bras. The next thing on Karen's agenda is to bring her bratty daughter Mimi back down to size.
Release Date: November 21, 2013
Author: Heir
Artist: SednaStudio-Hart
Tags: breast expansion, ass expansion
You get access to our entire catalog of breast expansion comics by becoming a member of Expansion Fan. Support independent comic book makers by becoming a member!